Photographing the Changing Light on the Cambria Hotel in Downtown Nashville
Last week I posted about how I have been exploring Nashville as an architectural photographer. I shared some scouting images of the Marriott building in downtown Nashville as well as some final snapshots I made.

The nice thing about these first few posts that I am going to make is that all of these buildings are just within a few blocks of each other so parking is relatively painless so far! The Cambria Hotel designed by Holly & Smith Architects, for example, is right across the street from the Marriott so these were relatively quick to get.

Before I share, I just want to be sure that I remind readers that these are personal projects and are simply quick snapshots and aren't entirely reflective of what one of my actual architectural photographs would look like. A significant amount of time and creative energy goes into one single image. These photos, on the other hand, were taken and edited in the span of about 10-15 minutes. They are effectively snapshots for the work that I am used to doing. These are really nothing more than scouting photos. All of that out of the way, let's get on with the photos!

This time I thought that I would share simply how light changes the dynamic of a building throughout the day.
This first shot was taken around noon and the second around 430pm. You can tell where the sun is during the day as it is casting a massive shadow from the new 1 Hotel going up that should be completed soon. The evening photo looks a lot warmer and more appealing, but either photo is passable – the harsh shadow across the building on the first kind of ruins it for me while the more subtle shadows don't bother me as much.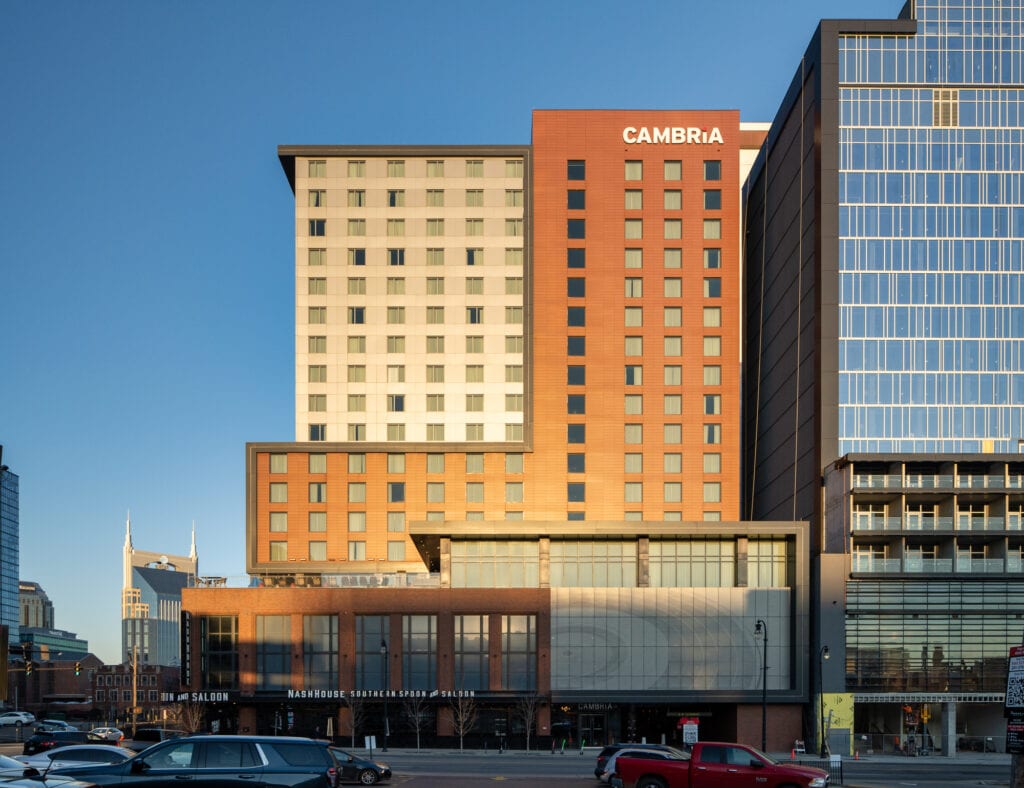 Again – similar angles with different compositions. The lighting is more appealing on the evening photo and the afternoon photo is not as passable. but still works. The things that stand out to me from these perspectives are the vantage points. I would have loved to get my camera about 10 feet higher in both photos to separate the embassy building from my subject. I also decided on the second composition to show some more of the "life" happening from the ground level as well as the buildings proximity to the Marriott.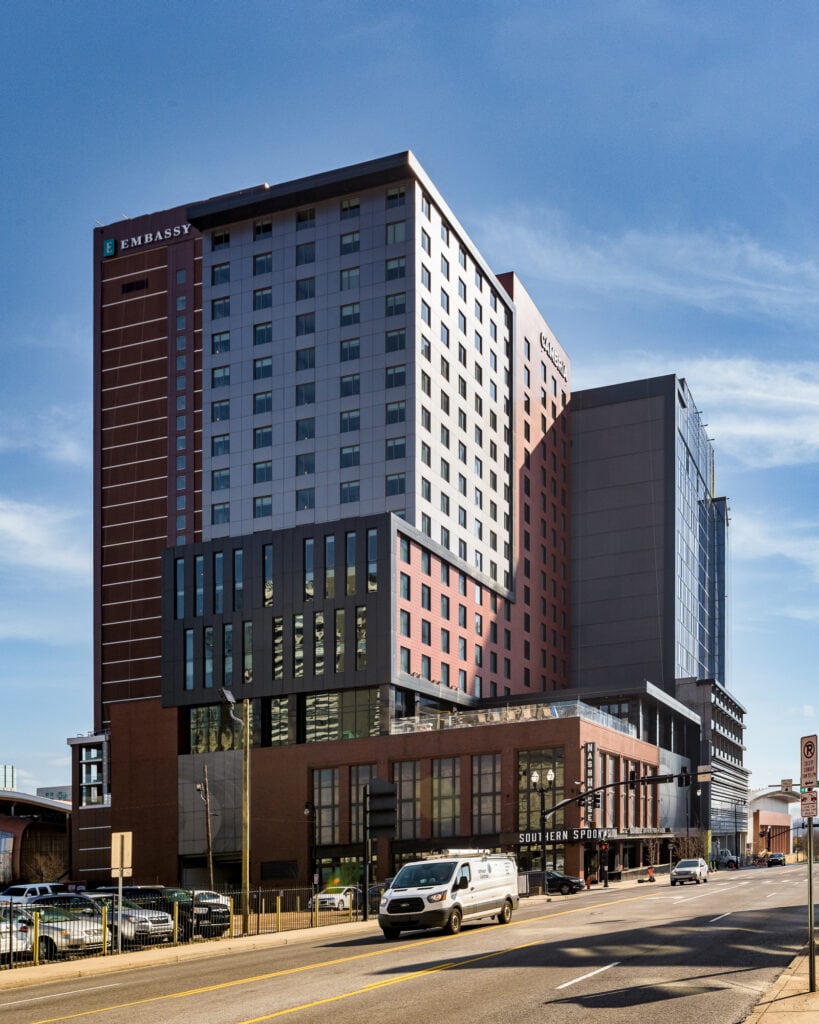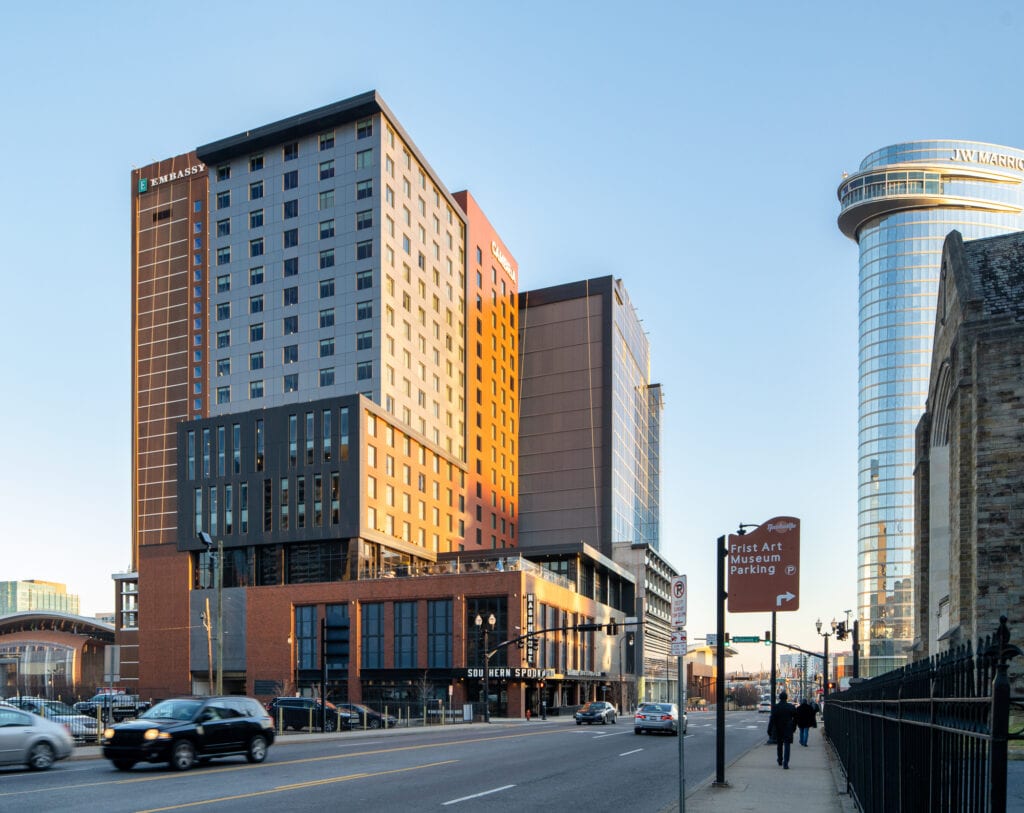 The back side of the building isn't super interesting, but I did want to take note of the light hitting the back during both times of day which is really just a reflection from the other buildings. It made some interesting patterns that I appreciated so I decided to keep them in this post.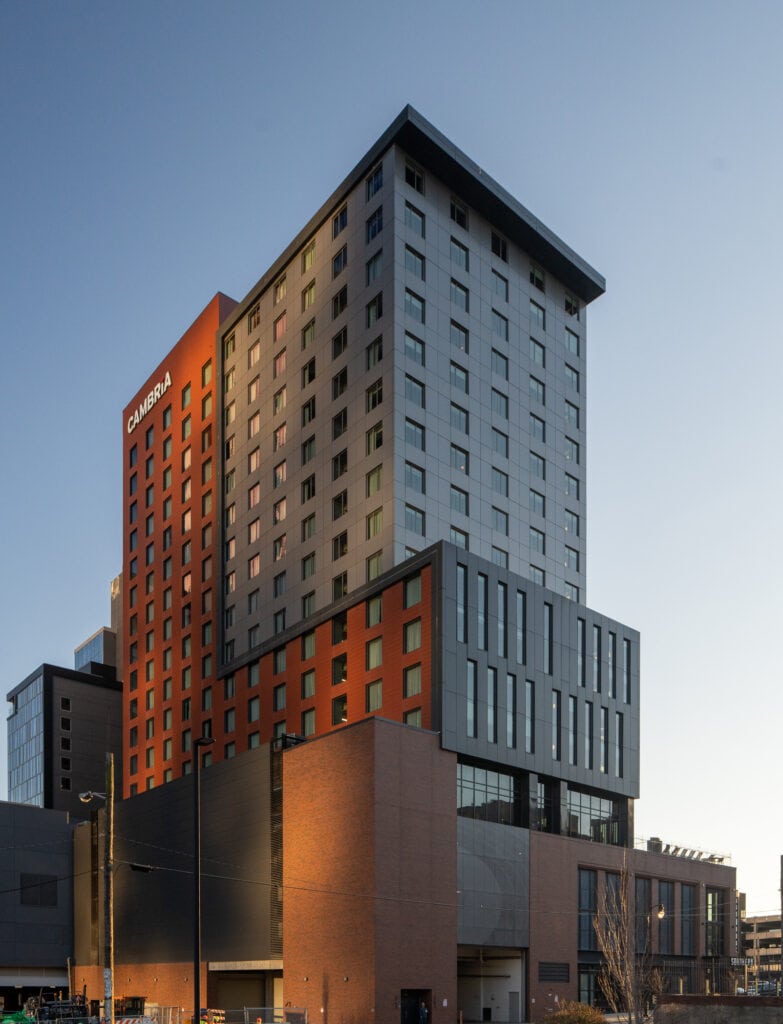 I wish I had been in Nashville over the last 4 years or so since this area has been developed to what it is today – I missed out on a LOT of vantage points of different buildings that no longer exist. In my short time being here so far, I am sensing that this is something I am going to have to get used to. It is all the more reason to keep documenting the architecture Nashville has to offer while I still can and makes me want to consider putting some more energy into the older structures throughout the city that may be gone in the coming years. As an architectural photographer, these changes excite me – but also make me ponder the amount of time that I actually have available to capture the ever-changing cityscape that is Nashville. I am undecided which building I will be covering next week as these two alone have taken much of my time, so please let me know if you have any suggestions for buildings you would like to see architecture photography of.